Mini shredder - shredding food waste for bokashi composting
Could not find a comparable shredder in the U.S. (prior to this purchase, May 2018). The one's that turned up in searches were too big (industrial sizes) for our purposes at a community garden.
Therefore, purchased it from Germany,
Mini XXL shredder with housing
Shredding chamber size: 120 mm [4.72"] × 97 mm [3.82"]
12 blades each 8 mm [0.31"] thick.
Made of Hardox 400 (a tooling steel with high wear resistance)
http://filamaker.eu/product/mini-xxl-shredder-with-housing/
(User manual mini shredder which includes details on materials allowed for shredding, e.g., thermoplastic materials below density 1.5g/cm3 or 2.5g/cm3)
Cost: 699.00€ ($822.04, 5/21/2018) + shipping + payment processing fee depending on payment method + customs/import-tax fee($36.09 paid to DHL) = $894.59 (paid with a composting grant)
Note. Takes the manufacturer about 3 weeks to build the device from time of order/payment; we purchased on 5/21/18 and received the shredder on 6/15/18 (NYC).
FilaMaker has other shredders, including one for organic waste, but it states that it will not handle larger bones and branches; made of stainless steel (not as high wear resistance as the Hardox steel); and only slightly larger chamber size, "shredder chamber size is 170 mm [6.7"] wide and 140 mm [5.5"] long (14 blades with 10 mm [0.4"] thickness)."
The one we got is made with a particular kind of steel called Hardox 400, designed to shred polymers (i.e., hard plastics) and thin metals as a first step in processing materials to be used by 3D printers. Caution: even though the mini XXL shredder can shred various hard materials, steel ball bearings will chip/break the tips of the teeth of the shredder.
Search for 'shredder' for videos showing different shredders, which does not use sharp blades but rather disks with teeth (see photos and videos below). Various videos will show small shredders shredding from small items to very large industrial shredders shredding an entire car including the engine. By the way, other kinds of devices, such as, grinders and blenders, would probably result in very mushy and liquid slop. The shredder (technically the mechanism 'pierce and tears' materials) gives us nicely diced food waste making it easier to handle and deal with.
Our mini shredder
We initially had a bicycle wheel welded to the hand crank to help rotate it manually, but in about 2 weeks of use, it broke off due to the wheel being aluminum instead of the same metal as the manual crank. So, the welder created a new wheel of the same material as the hand crank. After a month of putting it through shredding thick bones, avocado pits, mango pits, etc., it's holding up well.
The purpose of shredding food waste:
Since the bokashi composting method can do meats, bones, and pretty much all organic materials, being able to shred everything, especially hard organic materials (including avocado pits, mango pits, peach pits, nut shells, corn cobs, sea shells, etc.), allows the fermentation process to be more thorough (e.g., un-shredded avocado pits, bones take longer for the fermentation to get to the inside).
If the fermentation is more thorough, the fermented food waste should therefore break down more quickly -- We're currently still (as of 9/13/18) determining how much faster after trenching and feeding to a worm compost bin. It may take a year of doing lots of batches to get an approximate indication.
Avocado pits, chicken bones, mango pits, corn cobs, etc., although they broke down eventually with the bokashi method without shredding (within a few months of burying of feeding to a worm compost bin), they sometimes attracted rats -- The rats stay away from freshly buried fermented food waste, but after about a week in the soil, any clumps and materials that took a couple of months to break down (especially avocado pits and lemon/lime rinds) they would change odor in the soil. Since rats have a very sensitive sense of smell, they pull them out (but don't seem to eat them) out of curiosity. Anyway, with the shredding, hopefully this will no longer be a problem since the fermented food bits are smaller and easier to mix with soil, leaves, and mulched materials.
So far, our only problem with the mini shredder is that it is a mini. It is really small so it can only do so much food waste at a time. What usually took about 1/2-hour of work treating dropped off food waste with bokashi (using an ice breaker to chop the food waste and compact it), it now takes about an hour to shred the same amount of food waste. Volunteers are developing their own technique to shred more efficiently. One idea is to shred the hard stuff only, but that involves separating them out. We'll see what we decide to do over the next several months as we develop one or more routines.
Otherwise, a shredder about twice the size (24 to 30 disks, instead of the 12 disks in our mini shredder) would do the job in maybe 20 minutes instead of an hour.
Our goal is to eventually get a larger shredder (in the 10-inch to 15-inch range, length and width), and have it be able to be powered both manually and by a solar powered battery-motor system.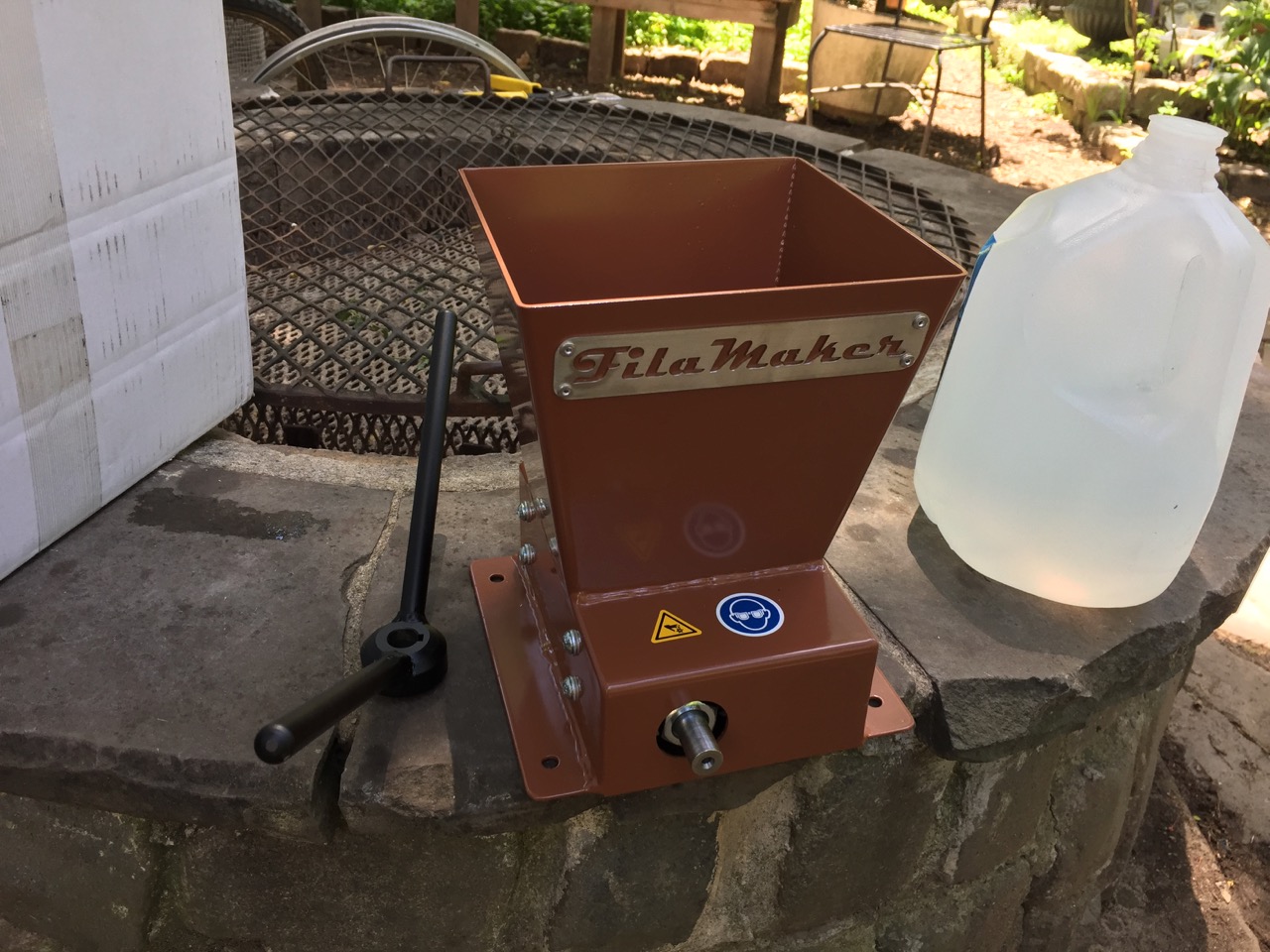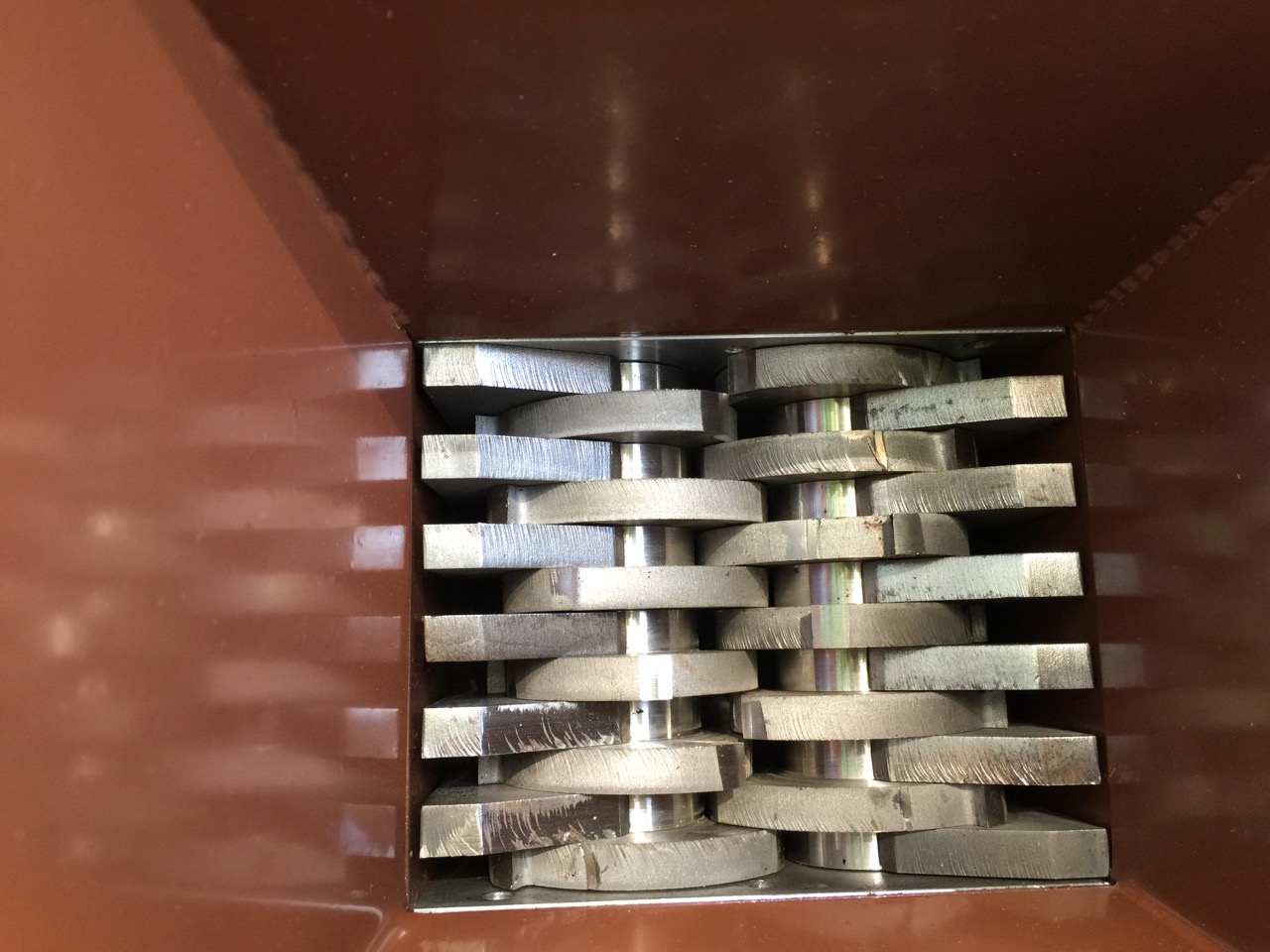 ---
Mini XXL Shredder lever attachment
---
New mini shredder with bicycle wheel welded on.
Shredding coconut...
---
Shredding mango pit
---
See how easily shreds peach pit towards end.
---
Two weeks later, shredder with new, better and stronger wheel.
---
Shredded food waste
---
Shredding food waste. People drop off their food waste in bags. The bags are emptied into the blue tray to remove contaminants (plastic tie-ons, rubberbands, bottle caps, utensils, etc.) and to spray the bokashi microorganisms in order to ferment the food waste. We accept and shred all food waste, including bones, coconut shells, oyster shells, and the usual avocado pits, mango pits, peach pits, corn cobs and husks, etc.
---
Other videos: shredding oyster shells